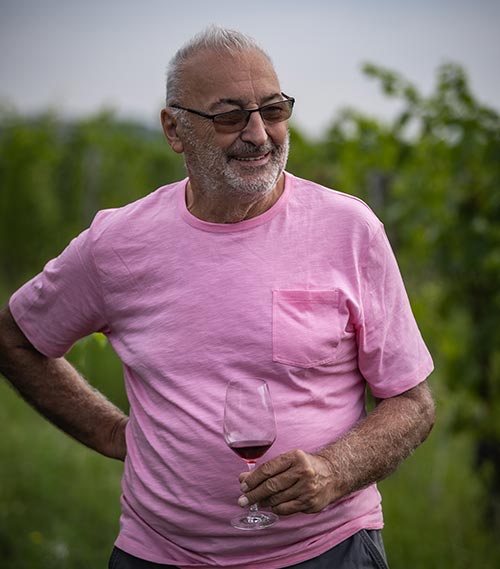 OUR WINERY

József Szentesi is a rediscoverer of old Hungarian varieties dating back to before the phylloxera plague, an advocate of non-interventionist winemaking, and a recipient of the Hungarian Winemaker of the Winemakers (Borászok Borásza) Award. As Swabians with roots in Budaörs, his ancestors have been growing grapes and making wine for centuries. The disastrous wine culture of the 1970s and 1980s separated him from the family tradition, but in 1998 he finally decided to return to his roots.
What was once a hobby turned into his passion, one small barrel became larger, then there were more barrels. Budaörs – which used to have nearly 500 hectares of vineyards – was consumed by urbanisation, so József Szentesi bought land in Nadap, Pázmánd, and Sukoró, near Lake Velence.
Today, the estate has 16 hectares of vineyards with nearly 30 varieties. Ancient Hungarian varieties based on viticultural and oenological works of the 19th century have been planted in part of the vineyard. As a result, wines that had been forgotten for over a century have been brought to life again – Csókaszőlő, Tihanyi Kék, Kék Bajor, Laska, Hajnos Kék and others.
For over 10 years, József has been making wine with his daughter – and in the last few years his grandson – the third generation – has also been helping out.
THE ESTATE
József Szentesi comes from a Swabian family in Budaörs. As a child, life was unimaginable without viticulture and winemaking. The socialist approach to farming in the 1970s and 1980s – and the accompanying industrial wine production – distanced him from both vines and wine. But in 1998, he decided to return to his roots and make a barrel of wine every year – which he would "sip with friends under the walnut tree in summer and by the fireplace in winter." His hobby became his passion, his production grew, and more wines emerged from the cellar – which attracted the attention of wine writers and wine lovers.
Few people know that in the 1950s in Budaörs, vines were still cultivated on nearly 500 hectares of land. However, the expansion of Budapest and the rise in land prices brought with it the destruction of these vineyards. By 2001, they had shrunk to one hectare, and the land suitable for vine planting had effectively disappeared. For this reason, József Szentesi bought land in the settlements around Lake Velence and partially grafted the vines planted in the 1980s and increased his plantings. Today the winery has 16 hectares of land, 85% of which are in Nadap, 10% in Pázmánd, and the rest in Sukoró.
OLD HUNGARIAN VARIETIES
In contrast to the classic European wine-producing countries, very few old varieties have been kept in cultivation in Hungary. It's incomprehensible why grape varieties that have served us well for hundreds of years have been relegated to the background in just a few decades. It was this serious contradiction – the seemingly abandoned Hungarian viticultural heritage – that captured the attention of József Szentesi. After studying the viticultural and oenological works of the 19th century, he decided to plant 10 types each of forgotten white and black grape varieties. He asked the Research Institute of Viticulture and Oenology at the University of Pécs for grapevines and started propagating and planting the varieties around Lake Velence.
Various historical sources have considered the selected varieties to be first class. Their cultivation declined sharply after the phylloxera plague – and by the second half of the 20th century it had virtually ceased. The varieties were replaced by more manageable world varieties better suited to the needs of industrial wine production. Yet these forgotten varieties produced famous wines in the 1800s, such as the Buda Red (a blend of Csókaszőlő and Kadarka) – which was also well received in export markets. But it is no longer possible to taste the ancient Somló blend – Furmint, Lisztes, Kéknyelű, Fehér Góhér, Zöld Szilváni, and Piros Bakator (see Lajos Ambrus' research on the subject).
The winery's first 'resurrected' wine was made from Csókaszőlő grapes in 2004. Although only a demijohn quantity could be harvested, it turned out so well that winemakers, wine writers, and wine lovers alike were amazed by it.
Today, we have more than a decade's worth of experience with Csókaszőlő vines. The first variety to be barrelled, it has performed exceptionally well in many vintages and has also stood the test of time. The 'Csóka' was followed by the Bavarian varieties – Tihanyi Kék and the Vörös Dinka. For many varieties, only demijohn quantities are available. Experimenting with nearly 30 varieties is extremely challenging – there are exactly 30 correct harvest dates to be chosen, 30 types of fruit to be processed and fermented, and 30 types of wine to manage separately for each vintage.
As a result of his efforts, József Szentesi was presented with the Hungarian Winemaker of the Winemakers (Borászok Borásza) Award in 2013.
TECHNOLOGY
In 2005, József Szentesi travelled to Burgundy and had the chance to visit some of the world's most famous wineries, which had a huge impact on him and shaped his future approach. This is how the cultivation philosophy of the estate was developed. The use of herbicides, insecticides, and fungicides that can be absorbed by the vines is prohibited. Recently, there have been steps made towards organic farming. Most of the work is done by hand, and the vines are cultivated gently. The wines are produced with uniformly low crop loads.
Regarding cellar technology, the aim is to minimise intervention. Fermentation for all wines is spontaneous and without temperature control in tanks or vats. Red wines are made by manual punchdown, and malic acid is also broken down spontaneously. White wines are typically matured in demijohns, vats and – to a lesser extent – large barrels – while red wines are aged in small barrels and bottled without filtering or fining.
THE VELENCE HILLS
The Velence Hills are a testament to a 300-million-year-old era in the Earth's history. The granite that forms the hills is deep igneous rock formed by intense volcanic activity in the Palaeozoic Era – and was exposed right here around Lake Velence. The fragmented granite hills also contain andesite and quartzite. The soils are partly loamy with granitic rocks – and very rich in lime – which helps to preserve the acidity of the wines and contributes to their long ageability.